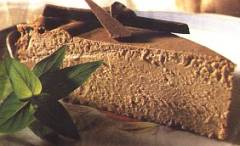 INGREDIENTS
:
2 cups graham cracker, crushed
1 cup pecans, finely chopped
1/2 cup butter or margarine melted
2 cups milk
1 package (3 5/8 oz. size) chocolate pudding and pie filling mix
1 circular tablet Mexican Chocolate
1 (8 oz.) package cream cheese
Optional Garnish:
Whole or coarsely chopped pecans, for garnish
Chocolate shavings, for garnish
LET'S MAKE THE PIE
:
In a bowl, combine crushed graham crackers and nuts. Set one cup of graham cracker crumb mixture aside. To the remaining mix, add melted butter and press on bottom and up sides of a 9-inch pie pan. Heat milk and Mexican chocolate over low heat. Add pudding and stir occasionally until thickened. Add softned cream cheese to pudding and stir until melted. Pour contents into pie pan and let cool. Refrigerate several hours before serving. If desired, garnish edges and top with reserved graham cracker crumb mixture.
Optional:
Decorate top with whole or chopped pecans or chocolate shavings.